A Night At The Savoy
New York – Spring 1936.
---
"The great, Benny Goodman and his orchestra made their triumphal return to the city and they were without a doubt the biggest draw in the music industry. The Swing Era was under way in full force. For over a decade swing music would remain the paradigm for popular music in America. And through especially fortuitous circumstances, it was equally the golden age of show tunes – the American Songbook.
The tandem of these two forces would create a musical revolution unparalleled in modern times, one in which the highest rung in artistry could be achieved without compromising commerciality. Never again would popular music be so jazzy, or jazz music be so popular."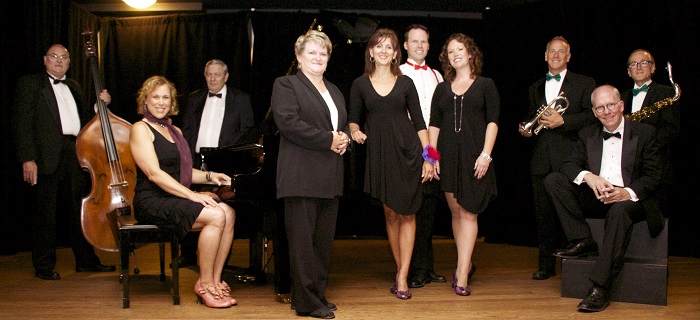 "A Night at the Savoy" takes you back to 1944 in New York City's iconic Savoy Ballroom to celebrate the music and performers of the swing era. Featuring the musical sounds of Victoria's own, "Dock Side Drive", swing & show band, and radio personality Barry Bowman. Audiences become patrons of the Savoy on that historical night, Dec 15, 1944, when the great Glenn Miller died while fighting in the services during WWII. Audiences area ushered into that evening and a live radio broadcast, entertained by the swinging sounds of Duke Ellington, Glenn Miller, Ray Charles, Frank Sinatra, the Andrews' Sisters, Irving Berline, Nat King Cole and more.
"A Night at the Savoy" made its debut run at the Oak Bay Beach Hotel Dinner Theatre in the fall of 2013. Perfect for any stage or venue, the show can be suited for shorter or longer runs.